The Surroundings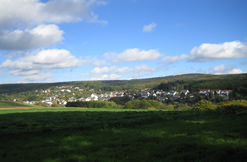 Stephanshausen
Within the scenic cultural countryside where the vineyards end and the rich mixed forest of the nature reserve park of the Rhein-Taunus begin you will find the relaxing recreational village of Stephanshausen nestled in the hilly countryside. (360m over NN).
This village is only 9 km away of Ruedesheim/Rhein which is famous world wide for it's street named 'Drosselgasse' and the "Niederwalddenkmal" of "Germania". Groceries can be bought directly from the farmers, or you can visit the two local restaurants. Because of the village's sanctuary environment and healthy climate it offers great recreation and relaxation.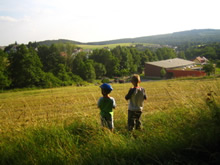 Romantic Hiking Trails
There are many interesting hiking trails available in the close vicinity, with beautiful views over the Rhein valley, like the famous 'Rheinhoehenweg'. The newly developed hiking trail 'Rheinsteig' (a total of 320 km) is only 3 km away from the village.
Visit the romantic alleys in the nearby villages and enjoy the numerous pubs and wine houses, which invite you to enjoy local wines and other local specialties.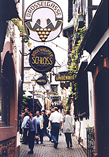 The worldwide renowned Rheingau music festival comes together every year to share art, vine and hospitality in complete harmony. The castle Johannisberg, where many of the events take place is only 3km away from the vacation home.
There are other numerous events you can attend at the Rheingau, like the Literature Festival, plays in the courts of fortresses, food tasting events and much more.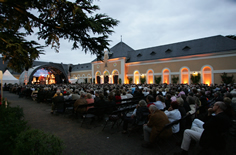 The 'Rhein Romantic' which every year attracts thousand of visitor's from around the world offers dominant fortresses and castles, historic churches and monasteries, the famous 'Lorelei', as well as, sun drenched wine hills, which are the origin of one of the best wines grown in Germany.

In June of 2002 the UNESCO declared the upper middle Rhein Valley as the Cultural World Heritage and counts as embodiment of the romantic Rhein-countryside. Even Heinrich von Kleist defined this delightful region as "an area of poet's dreams".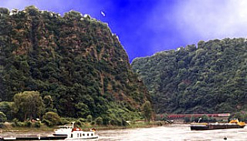 Loreley
Outside activities can be nearby the holiday home:
Cycling, horse riding, mountain biking, swimming, tennis, walking, a gliding airfield is 5km away from the house.
For our little guests the Rheingau offers specialities:
A playground in the village, the "Taunuswunderland" with his fairy tales, the "rambazamba-spieleparadies" , a wave pool (20km away) and a swimming pool (8km away).
Just 20-30 km away from Stephanshausen are 3 spatowns (Wiesbaden, Schlangenbad, Bad Schwalbach)with thermal springs, ideal for fisical and mental recreation and relaxing.